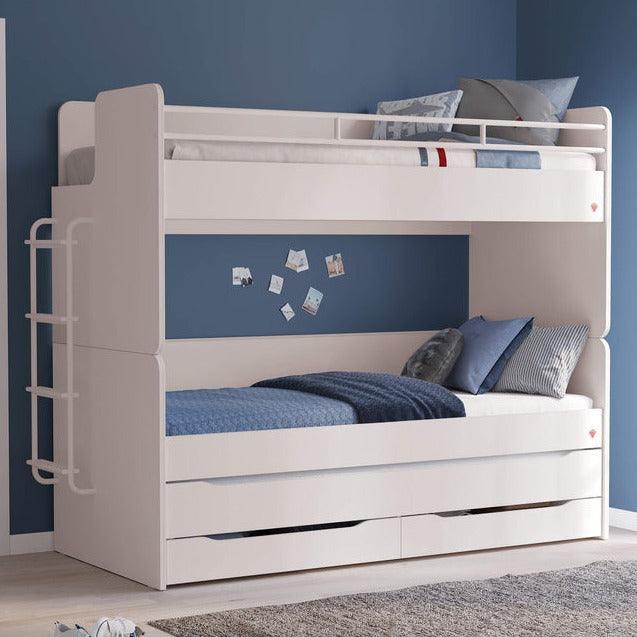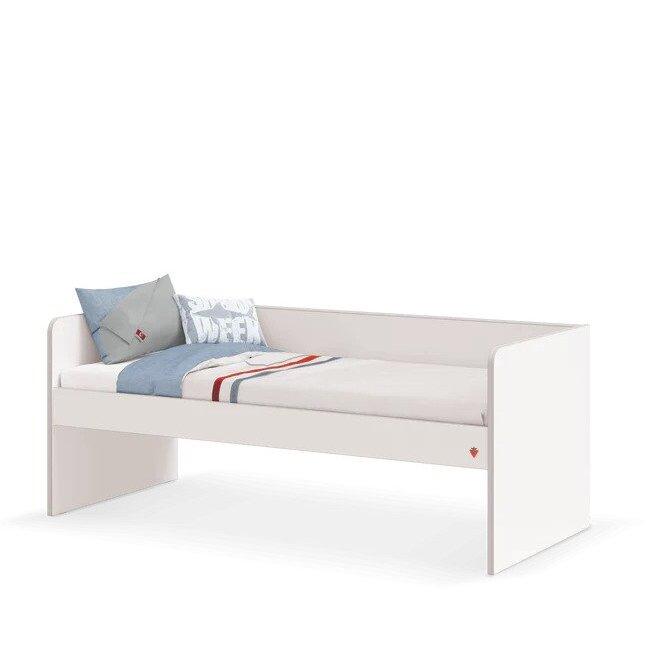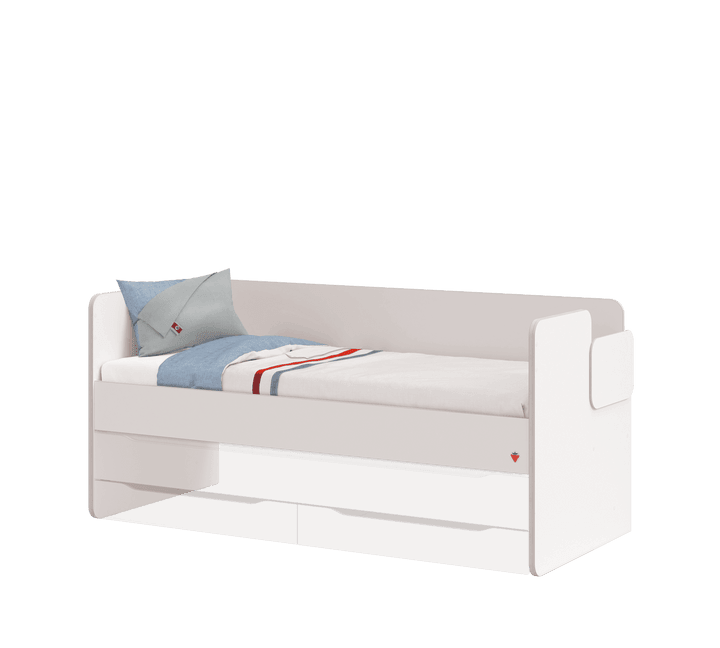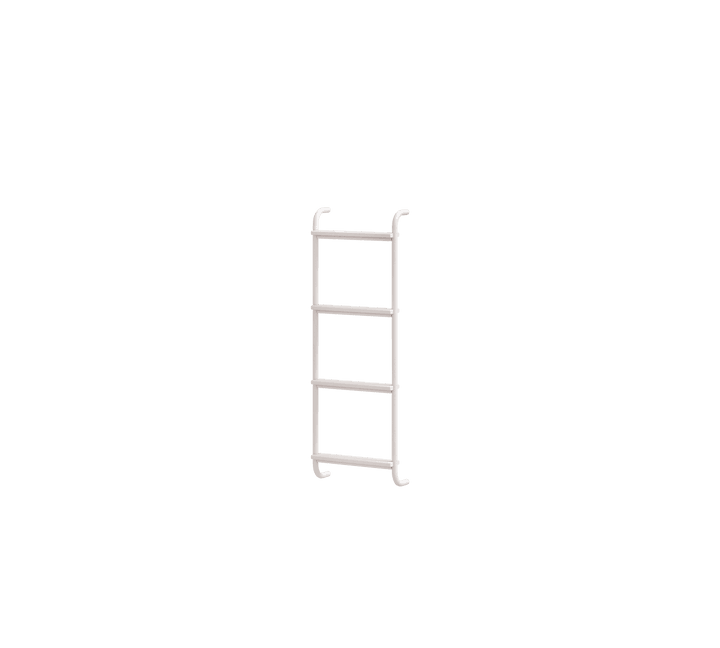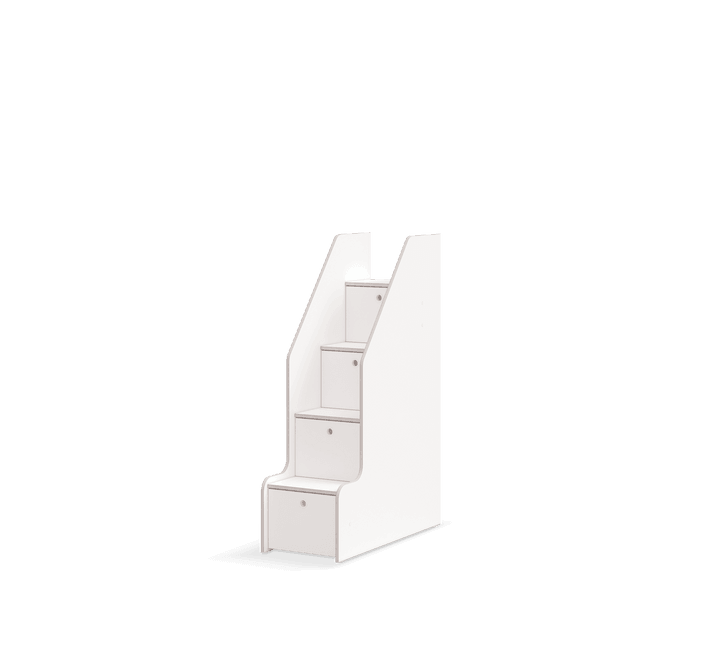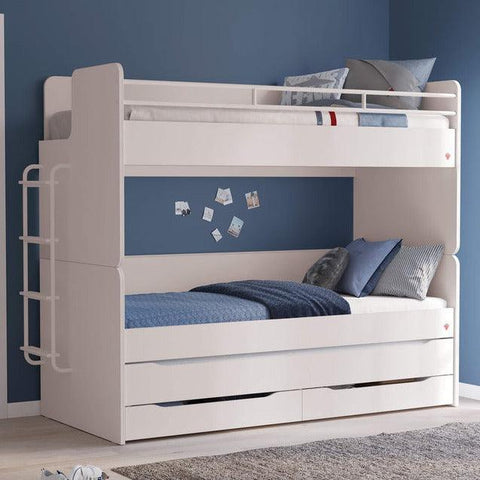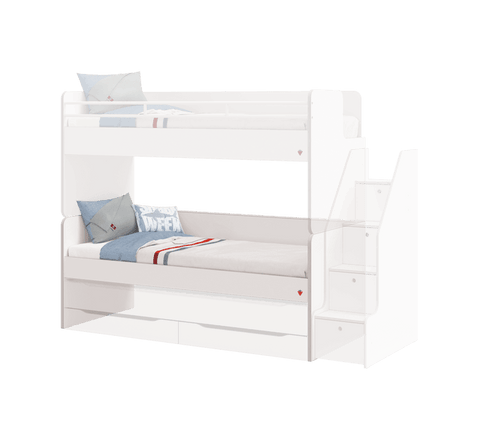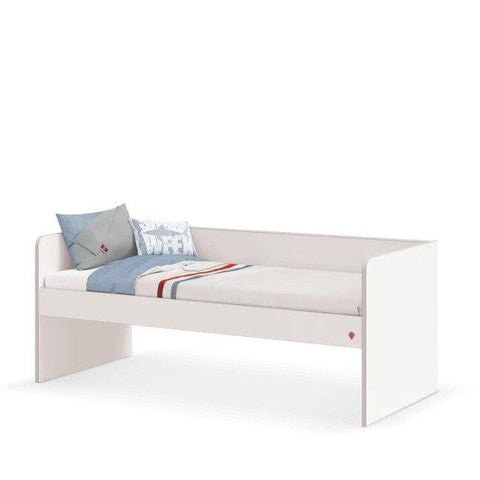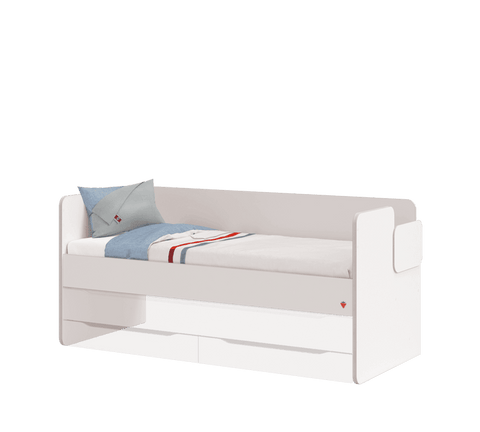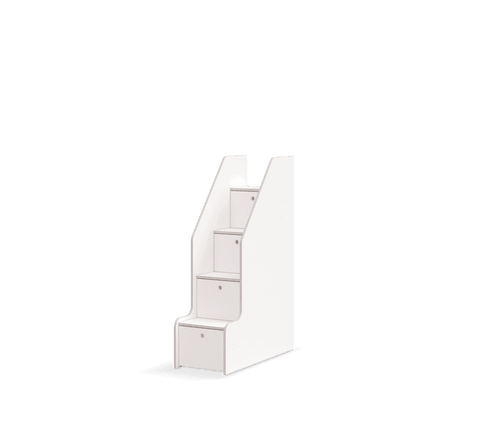 (NEW) Cilek Studio Bunk Bed White
Measures: L207 x W95 x H84 cm (Lower Tier) | L207 x W95 x H96 cm (Upper) | L207 x...
SKU:
20.77.1414.00 + 20.77.1413.00 + 20.77.1417.00
Measures:

 

L207 x W95 x H84 cm (Lower Tier) | L207 x W95 x H96

 

cm (Upper) |
L207 x W95 x H94cm (Bunk Lower Case) | L37 x W13 x H105cm (Ladder) | L40xW95xH139cm (Staircase)
Cilek bunk beds are metal frame beds with interesting designs to sleep 2.
Pullout with drawer is sold separately. You have an option to add a pull out bed as well, which can double up as a large drawer.
The pullout comes with a mattress compartment and two drawers. It is optional. Pullout mattress will be a 90x200x13cm thick foam mattress due to constraints
Cilek Studio Series is the newly added modules series that provide space-saving and an organized environment to the room while offering ease of use with their functional modules. 

All Cilek products are made in Turkey and come with 2 years warranty unless otherwise stated. Wooden products are made of MDF board with extra strengthening full piece wood, adhering to the highest EU safety standards for your loved ones.
We do carry ready stocks for a range of Cilek products, otherwise you can also check on the current estimated arrival date if you wish to order an item that is not in stock.
Please take note of the estimated lead time for your purchase.
Maxtrix: Ready Stock for most WHITE and NATURAL configuration. We do keep some stock of casegoods.
Cilek: We keep ready stock for many items. To check stock availability or current lead time for NEW orders, please contact our customer services.
Oslo M3, Oslo ModBed: Ready stock, est. 2-3 weeks.
Oslo CustomBed: 4-5 months after 3D artwork is confirmed as it is made-to-order.
Sampo Kingdom: Indent item, around 5-6 weeks.
HB Rooms: Indent item, around 5-6 weeks.
Joey's: Some are ready stock, if not, delivery in 5-6 weeks.
Snuggle: Some are ready stock, if not, delivery in 5-6 weeks.
Canvas Mori: 3-4 weeks upon confirmation of design and size.
Mattresses: Ready stock, unless custom size.
After purchase, you will receive an email confirmation immediately. We will then contact you shortly to advise on estimated delivery time.
Please note that the information here is for normal times, and may be subjected to changes.
FREE DELIVERY in Singapore for all orders above $100.
FREE ASSEMBLY unless otherwise stated.
However, do take note that the following would incur additional charges:
Non-Lift landing: $20 per floor.
Tuas and Sentosa: $20 flat fee.
For overseas or wholesale orders, please email us at enquiries@kidshaven.sg