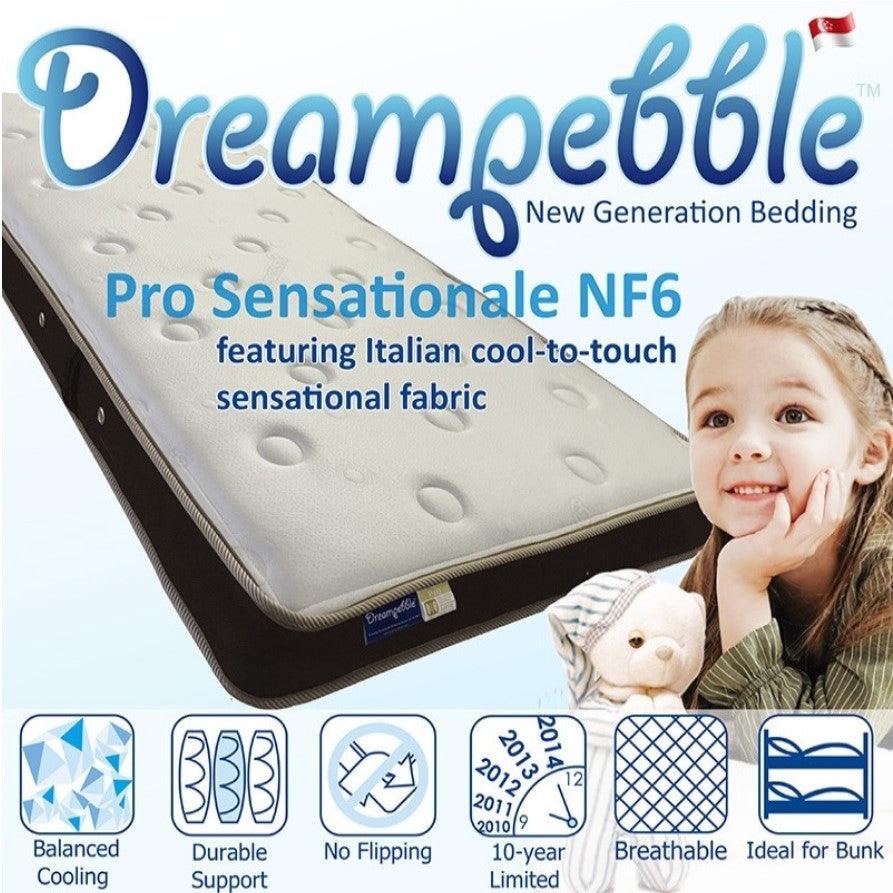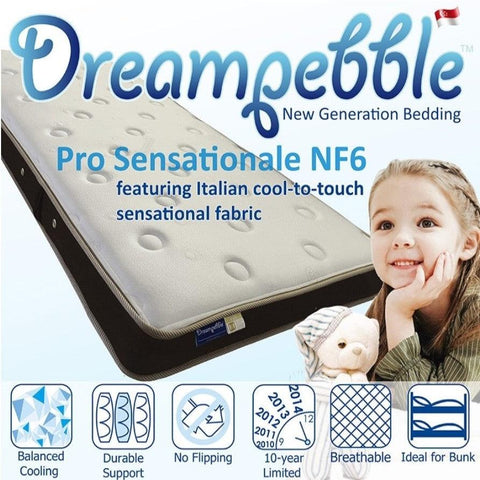 Dreampebble Pro Sensationale NF6 Mattress
Measures: Single: L190 x D90 x H15.2 cm | SS: L190 x D107 x H15.2 cm  ...
SKU:
dreampebble-pro sensationale-single
Measures: Single: L190 x D90 x H15.2 cm | SS: L190 x D107 x H15.2 cm
Pro Sensational NF6 mattress is a new introduction by Dreampebble in tackling the climate change on rising temperature. It features the state-of-the-art Italian style new cooling technology on the top fabric covering, having the cooling yarn weaved onto the fabric to have a balanced cooling effect at all times.

Apart from this new feature, the mattress is constructed using individually wrapped pocketed springs to provide back conforming support, especially good posture care to your child's growing spine. It is suitable for bunk beds due to its low height design.
Pro Sensational NF6 is not only suitable to children but also adults, especially senior citizens, due to its overall mattress quality, less heavy to handle and not necessary to flip it every few months.
Key Features:
Balanced cool-to-touch Italian style fabric covering
Individually wrapped pocketed springs
Back conforming support with individually wrapped pocketed springs
Firmness: 6/10 Medium Firm
No flipping of mattress required
Ideal for bunk beds - mattress height: est. 6"
Breathable with enhanced ventilation using 3D mesh border fabric and ventilators
10 years warranty
Dreampebble is a Singapore brand since 2010, with mattresses made in Thailand. They are a new generation bedding that focuses on quality yet affordable mattresses to cater to customers requirements today.
Please take note of the estimated lead time for your purchase.
Maxtrix: Ready Stock for most WHITE and NATURAL configuration. We do keep some stock of casegoods.
Cilek: We keep ready stock for many items. To check stock availability or current lead time for NEW orders, please contact our customer services.
Oslo M3, Oslo ModBed: Ready stock, est. 2-3 weeks.
Oslo CustomBed: 4-5 months after 3D artwork is confirmed as it is made-to-order.
Sampo Kingdom: Indent item, around 5-6 weeks.
HB Rooms: Indent item, around 5-6 weeks.
Joey's: Some are ready stock, if not, delivery in 5-6 weeks.
Snuggle: Some are ready stock, if not, delivery in 5-6 weeks.
Canvas Mori: 3-4 weeks upon confirmation of design and size.
Mattresses: Ready stock, unless custom size.
After purchase, you will receive an email confirmation immediately. We will then contact you shortly to advise on estimated delivery time.
Please note that the information here is for normal times, and may be subjected to changes.
FREE DELIVERY in Singapore for all orders above $100.
FREE ASSEMBLY unless otherwise stated.
However, do take note that the following would incur additional charges:
Non-Lift landing: $20 per floor.
Tuas and Sentosa: $20 flat fee.
For overseas or wholesale orders, please email us at enquiries@kidshaven.sg